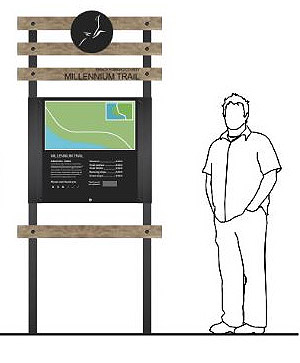 The principal access points to the trail – the trailheads – are planned for 5+ locations at present. Each trailhead will (we hope) have signposting, interpretive materials, limited parking spaces, washrooms and resting points.
Construction of the Salem Road and Hillier trailhead facilities will be completed in 2021.
Planned Trailhead Locations
Salem Road in Consecon

Station Road in Hillier

West Street in Wellington [construction complete]

Stanley Street in Bloomfield

Lake Street in Picton [design complete]

County Road 49 in Picton
Trailhead Kiosks
November 2020 – Next two sites approved
The Wellington kiosk will serve as a model for the design/construction of kiosks at other trailheads.