You can support the goals of the County and Trail Committee by donating funds for the completion of the work. You can support the project by volunteering time in the fresh air to help with the clearing and rehabilitation of the trail. You can do something to show your support – buy a t-shirt!
Donations
All donated funds are used to improve the trail. You can help! Be a trail builder by donating $1 for each kilometre of the trail to be upgraded – $46 or more.
How to Donate
However you donate, please advise our treasurer of your email address so we can send a personal note of appreciation.
DONATIONS BY CHEQUE
If you want to make a donation supporting the work on the Millennium Trail please make a cheque payable to PEC Trails and send to Ursula Cattelan, Treasurer, 37 Ontario Street, Picton ON K0K 2TO, email address ursulacattelan@gmail.com.
DONATIONS BY e-TRANSFER UPDATE
Previous issues resolved by TD. Donations can now be made by e-transfer to ursulacattelan.td@gmail.com.
Tax Receipt
PEC Trails cannot issue a tax receipt for your donation. Donors who require a tax receipt must identify that need when they send their contributions to Shire Hall and ensure that the contributions are identified as for the Millennium Trail (lest they fall through to general revenues). You will also be asked to sign a document to identify your privacy preference (named on this web site and future donor signage, or to remain anonymous). That document can be downloaded by clicking here.
This process is mandated and managed by the Finance Department. Our Treasurer would appreciate you advising us your donation to assist with our own financial planning.
The Millennium Trail is a community project and we thank you in advance for your support.
PLATINUM DONOR – Donations of $1,000 or more
Your name on one double-sided kilometre marker for every $1 000. donated. Donors will be able to choose from available kilometre marker locations in the order that their donation is received. Trail users will be reminded of your donation for many years to come [minimum of ten years]. Signs can be shared by two parties. SOLD OUT
Your name on a Kiosk Plaque under PLATINUM Donor
Your name on this website under PLATINUM Donor

See Platinum Donors list
GOLD DONOR – Donations of $200 or more
Your name on a Kiosk Plaque under GOLD Donor
Your name on this website under GOLD Donor

See Gold Donors list
SILVER DONOR – Donations or $20 or more
Your name on this website under SILVER Donor

See Silver Donors list
All Donors Receive "Friends of the Millennium Trail" Membership.
Special Donation
TD Canada Trust's Friends of the Environment Fund

has granted $15,000 for special work in the Trail's wetland area where constructing eco-tunnels is a key feature for species protection.
Volunteering Time
Fresh air, gentle exercise, companionship, and … whatever other benefits you get from working with others in trail maintenance. Occasional work with brushing and clearing, etc. See the Trail Workers Slideshow
Email us at info@pectrails.ca to see what you could do to improve our community trail or to volunteer as one of our Adopt-A-Trail Ambassadors.
Merchandise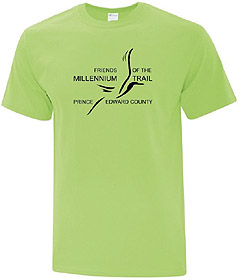 Email us at info@pectrails.ca for details on pricing and purchase.
T-shirt vendors
Currently we have amazing t-shirts for sale through local biking stores.
Pedego Electric Bikes
39 Stanley St. (CR-12), Bloomfield
(613) 393-9191
Bloomfield Bicycle Co.
225 Main Street, Bloomfield
(613) 393-1060
County Bike Rentals
(647) 462-7504
Closson Road Cycle
690 Closson Road, Hillier
(613) 920-2891
Ideal Bikes Rentals
309 Main Street, Wellington
(613) 779-6979
Agrarian Market
4 Lake Street, Picton
(613) 476-0001
More branded merchandise is planned. Show your support!