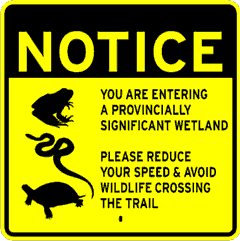 Although the wetlands part of the trail (around Hillier) is only 2.5 km long, it intersects two magnificent provincially significant wetlands – Hubbs Creek Marsh and Slab Creek Swamp – and is arguably the most beautiful part of the path: teeming with chirping birds of every flock and feather, frogs and turtles, an occasional snake, and even beavers.
There are two types of wetlands in the Hubbs Creek/Slab Creek sections of the Millennium Trail – a swamp, which is a wetland dominated by trees; and a marsh which is a wetland usually dominated by grasses and sedges.

For more of Daniel Vaughan's pictures of the marsh and swamp areas, click here.

TD Canada Trust's Friends of the Environment Fund

provided a $15,000 grant which was used in part to produce the beautiful educational/interpretative signage at entry points to the trail in the wetlands section. These presentations can be seen here [1.2 Mb PDF]

.
Prince Edward County Wetlands
For a wider perspective on wetlands in PEC, please read the Ducks Unlimited brochure [3.6 Mb PDF]

.