In the beginning …
After twice tendering for the work to complete the Millennium Trail restoration and receiving bids far higher than expected, Council adopted a unique model involving the public with a major input in project delivery largely based on the Wellington Rotary trail restoration and upgrade project. Council established the Millennium Trail rehabilitation ad-hoc committee for the purpose of facilitating the capital project as approved by council, and appointed current Prince Edward County Trails Committee members Barry Davidson, Patrick Maloney, Amy Bodman, and Vincent de Tourdonnet to the committee.
The PEC Trails presentation to Council can be found here »»

PEC Trails vision
To make the entire 46 km Millennium Trail from Carrying Place to Picton suitable, safe and attractive for cyclists, pedestrians and other permitted users of this multi use trail.
Through the hard work of the Rotary Club of Wellington, the 11 km portion of the trail from Danforth Rd. to Hwy 33 east of Wellington has already been upgraded.
Our vision is to upgrade the remaining 35 km of trail and resurface it to enable more people to use it.
Fundraising
The fundraising efforts generated in excess of $150,000 – almost TWICE what our presentation promised.
Making it happen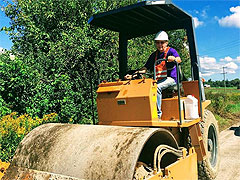 It takes a lot of people working to make the trail rehabilitation and improvements happen. Here's a list of our main activities …
Brushing out overgrown edge areas
Widening trail to approx. 11 feet
Re-grading the gravel & stone base
Topping with six inches of crushed limestone
Placing distance markers every kilometre
Visit the Trail Workers Slideshow to see pictures of people having 'fun' while making it happen.
Community Outreach
The public are informed on project goals, schedules, and progress by information contained on this web site (managed and maintained by the PEC Trails committee) and by e-mail newsletters sent periodically to all Friends of the Millennium Trail.