You can support the goals of the County and Trails Committee by donating funds for the completion of the work. You can support the project by volunteering time in the fresh air to help with the clearing and rehabilitation of the trail. You can do something to show your support – buy a t-shirt!
Donations
All donated funds are used to improve the trail. You can help! Be a trail builder by donating $1 for each kilometre of the trail to be upgraded – $46 or more.
How to Donate
However you donate, please advise our treasurer of your email address so we can send a personal note of appreciation.
DONATIONS BY CHEQUE
If you want to make a donation supporting the work on the Millennium Trail please make a cheque payable to PEC Trails and send to Ursula Cattelan, Treasurer, 37 Ontario Street, Picton ON K0K 2TO.

DONATIONS BY e-TRANSFER
Donations can now be made by e-transfer to ursulacattelan.td@gmail.com.
Tax Receipt Required?
The PEC Trails Committee is a Not For Profit volunteer group but does not have Charity status so we have arranged with the County's Finance Department to provide donation Tax Receipts on our behalf.
Make your donation cheque payable to "The County of Prince Edward" and identify it for the Millennium Trail. You will also need to include a signed document to identify your Privacy Preference. That document can be downloaded by clicking here.
Mail your Donation cheque and Privacy Document to Ursula Cattelan, Treasurer, 37 Ontario Street, Picton, ON K0K 2T0 and she will register your donation and forward it to Shire Hall on your behalf.
The Millennium Trail is a Community Project and we thank you in advance for your support.
PLATINUM DONOR – Donations of $1,000 or more
Your name on a Kiosk Plaque under PLATINUM Donor
Your name on this website under PLATINUM Donor


See Platinum Donors list
GOLD DONOR – Donations of $200 or more
Your name on a Kiosk Plaque under GOLD Donor
Your name on this website under GOLD Donor


See Gold Donors list
SILVER DONOR – Donations or $20 or more
Your name on this website under SILVER Donor


See Silver Donors list
All Donors Receive "Friends of the Millennium Trail" Membership.
Special Donation
TD Canada Trust's Friends of the Environment Fund

has granted $15,000 for special work in the Trail's wetland area where constructing eco-tunnels is a key feature for species protection.
Volunteering Time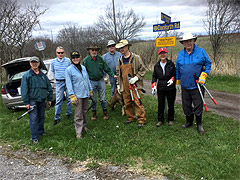 Fresh air, gentle exercise, companionship, and … whatever other benefits you get from working with others in trail maintenance. Occasional work with brushing and clearing, etc. To see the Trail Workers Slideshow – click here.
Email us at info@pectrails.ca to see what you could do to improve our community trail or to volunteer as one of our Adopt-A-Trail Ambassadors.
Merchandise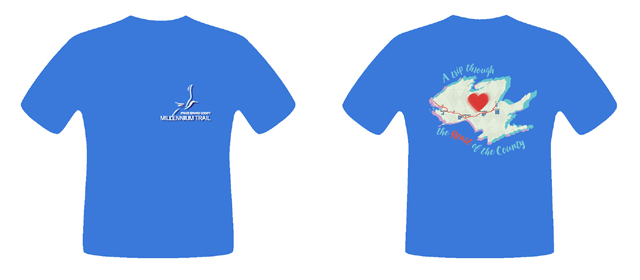 T-shirt vendors
Coming soon – amazing t-shirts.