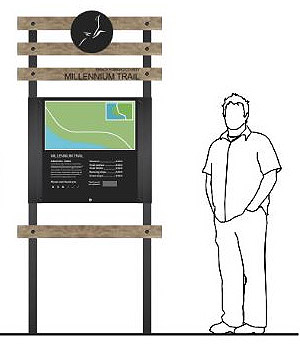 The principal access points to the trail – the trailheads were originally planned for five locations in addition to the pre-existing one in Wellington. Each trailhead will (we hope) have signposting, interpretive materials, limited parking spaces, washrooms, and resting points.
Completed and Planned Trailhead locations
Salem Road in Consecon[construction complete]
Station Road in Hillier[construction complete]
West Street in Wellington [construction complete]
County Road 49 end of Trail in Picton/Whitechapel [construction complete]

Bloomfield area [future location]

Picton area [future location]
Trailhead Kiosks
November 2020 – Next two sites approved
The Wellington kiosk will serve as a model for the design/construction of kiosks at other trailheads.