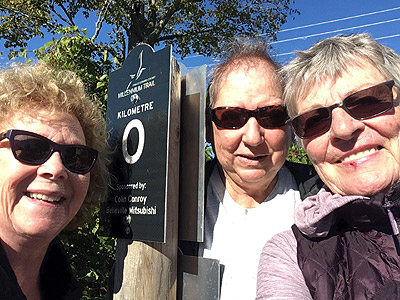 My friends, Carol and Margaret and I walked the entire beautiful Millennium Trail here in the County. It is a total of 46 km. and we walked sections of 2-3 km at a time, except for yesterday when we completed the last 7 km of trail! Lots of conversation, camaraderie and enjoying the varied scenery.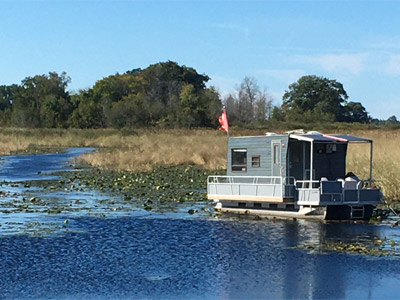 Our journey began in May, then we took a hiatus during the hot summer months and completed it yesterday in perfect weather. We walked from the end in Picton to the beginning in Carrying Place (hence the photo at marker '0'). The other photo yesterday was picturesque – of a single old houseboat anchored near Weller's Bay.
This former railroad trail is very well-maintained by an MT committee of dedicated volunteers and has bicycle repair stops and port-a potties here and there. It goes by two golf clubs, by vistas of Lake Ontario, many wetlands, farmlands, wineries, breweries, an outdoor theatre, and homes/housing developments. We observed swans, horses, hens, turtle eggs, many birds with their lovely birdsongs and a fox (from afar). We met walkers, cyclists, ATV folks and lots of dogs for Carol to meet and greet!
The whole thing was good-for-the-soul during this pandemic. Our purpose, besides fitness and opportunities to chat, was to make a donation for each km walked to:
Breast Cancer Awareness
Bladder Cancer Awareness
The Millenium Trail.
Mission accomplished!
Next year, perhaps we'll do it as part of 'Hike for Hospice' here in Picton.