LATEST NEWS & INFORMATION

This ride takes you end-to-end from the start of the Millennium Trail in Carrying Place, all the way across beautiful Prince Edward County, ending in Picton. This is a special opportunity to ride the entire trail (or half) with a large group of cyclists of all skill levels. The 2 options to participate are the Full Ride: 46 km (28 mile) end-to end ride or the 20km (12 mile) Fun Ride beginning in Wellington. Both rides end at Prince Eddy's Brewing Company for a post-ride celebration meal, games, drinks, prizes, live music and more.
For more information see www.trailjamseries.com

The Ontario Trails Council (OTC) – of which we are members – is a charity that promotes the development, preservation, management and use of recreational trails and trail based activities in Ontario. OTC has written to Minister Steve Clark to voice concerns with regard to Bill 23 and the potential for a negative impact on Trail systems. A copy of this letter was sent to PEC Trails.
The Millennium Trail Committee endorses those views.
If you wish to learn more, you may access and review this letter visiting Bill 23 response [pdf] click here to download.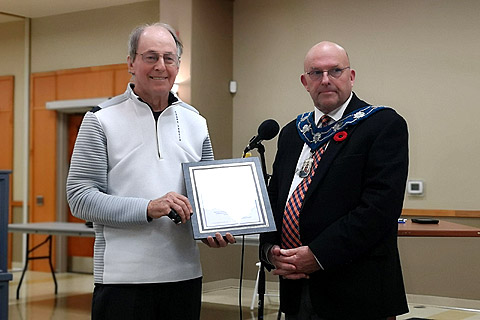 Mayor Steve Ferguson presented Civic Recognition Awards to Barry Davidson, Judy Kent, Adam Engel, and Christopher Moore at council's meeting Tuesday.
Davidson was awarded for being the "driving force" in upgrading the Millennium Trail.
Very recently our volunteers completed the kiosk and ancillary structures at the White Chapel site at the eastern end of the Trail on Hwy 49.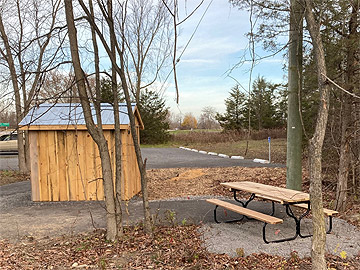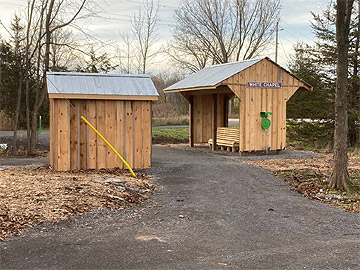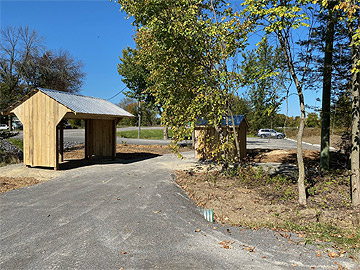 Less than six weeks from the official opening, the pollinator garden is well established and looks healthy.
The Millennium Trail – a Trail for all Seasons with Terry Sprague. Presentation for the PEC Field Naturalists.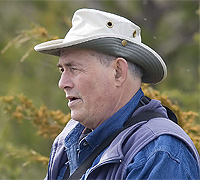 Terry Sprague is a naturalist who lives on Big Island. His weekly columns on nature appeared in local newspapers for 50 years. He has held positions at Glenora Fisheries Research and as an interpretive naturalist at both Sandbanks Provincial Park (8 yrs.) and Quinte Conservation (17 yrs.).   He is recipient of the 2002 Pioneer Conservationist Award from Conservation Ontario, the 2004 Richards Education Award from Ontario Nature, and the 2015 Gold Quill Award from the Canadian Community Newspapers Association. 
The Millennium Trail – a trail for all seasons
Terry Sprague has walked the entire trail on six different occasions since 2005. In this presentation, he shares some of the history and his thoughts on this former CN railway line that runs for 48 km from Picton to Carrying Place. Both the human history and natural history are dealt with in this presentation, along with how it all came about. Meet some of the people who use the trail, and discover their fascination for this now popular cross county route.
Note: early section of video may have glitches with video. Stick with it.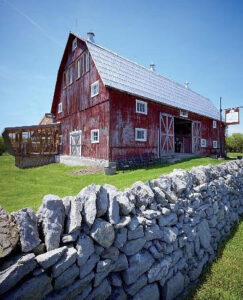 The date was Sept 27th at Karlo Estates. It was an excellent turn out of approx. 35 people. We had four draws for bottles of wine sponsored by Pedego PEC and presented by Sherry Karlo. Snacks and non alcoholic drinks were served. It was a good mix of maintenance volunteers, the gardening group, and our supporters.
Everybody had a schmoozing great time. Four of our Board members and both of the Donors for the Hillier site and the Consecon site were there. Two former councillors Ernie Margetson & Jamie Forrester with his wife and one current councillor Kate MacNaughton attended. Albert Paschkowiak from the County was also in attendance.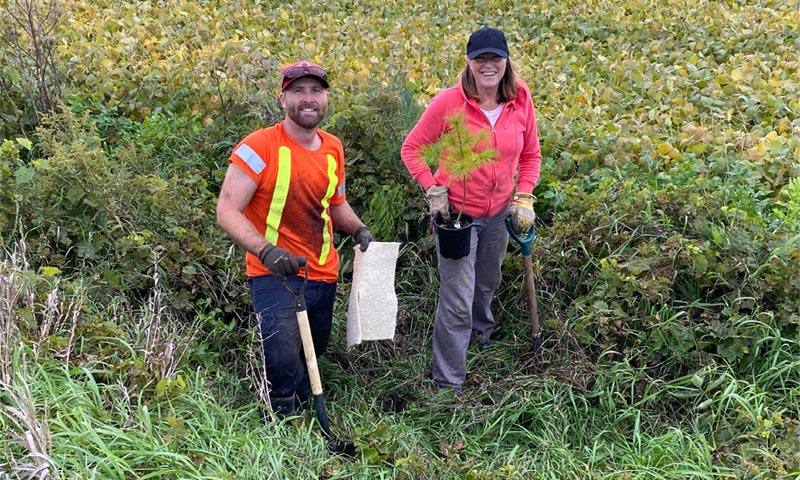 Sixty two trees planted this morning on the section of the Trail east of Wesley Acres Rd., both sides of the Trail, Seven different species of trees, deciduous and conifer. Our thanks to Cody Lowe (seen here) and Albert Paschkowiak, Operational Services, Prince Edward County who made this possible. Volunteer Karen Mouck lent a hand.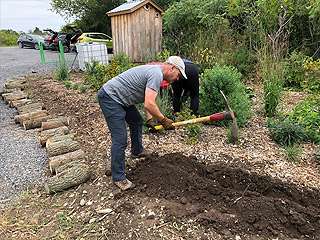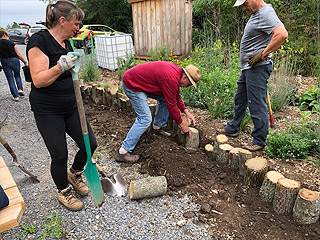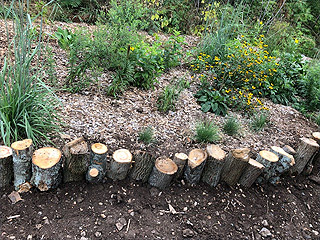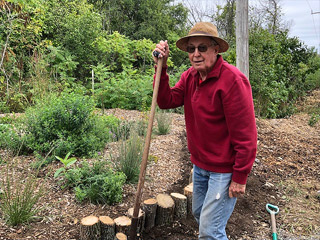 The pollinator garden is being groomed for the celebration by Barry Davidson, Lise Bois, Steve O'Brien, Kathy Bondi and Ursula Cattelan under the aegis of the PEC Horticultural Society. Preparations for the September 12 official opening of the Hillier Station are now completed. Well done everybody.