LATEST NEWS & INFORMATION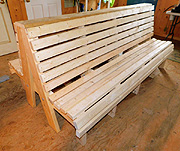 Trevor Smith of Consecon is the skilled carpenter who has generously donated his time and talent to the building of two benches for the two new Staging Areas. Our thanks to Trevor for this outstanding job.
Later this year, these will be installed in kiosks, alongside graveled parking lots at the Station Rd. and Salem Rd. crossings. There will be a large Trail Map, local interest items, and a new shade tree.